HONESTY MUSIC ENTERTAINMENT LTD
……..Setting Standard
Honesty Music Entertainment started about two decades ago with direct sales of several award winning gospel songs basically by Americans and Europea. Honesty Music is the first and only music marketing company in Nigeria that single highhandedly sponsored a Live Gospel Music Concert. With expertise knowledge and strategies the company markets only quality gospel music across the country and overseas.
HONESTY CREED and their UPCOMING EVENT
Honesty Creed is the Music Group of Honesty Missions International in Lagos, Nigeria. The group consist of three talented singers with the aim of reaching out to the world through music. They have the vision to see Jesus glorified all over the world through our music… They released their debut album titled GRATITUDE on the 23rd of May 2023. Stream or Download on all Digital Music Stores.
We Produce, Market and Distribute Gospel Music
At Honesty Studio, we produce excellent and quality music. We can also market your music and make them available on all major digital music platforms worldwide such as iTunes, Apple Music, Amazon Music, Boomplay, Deezer, Spotify, Tidal etc.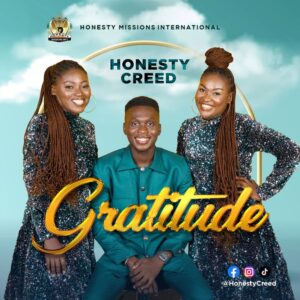 You don't have to travel to foreign countries to get high quality video that can stand and compete at any level.